Have you ever wanted to create a digital product but didn't know where to start? Well, I was in the same boat until I discovered the power of Chat GPT. In this blog post, I'll share with you how I used Chat GPT, along with some other steps, to create and launch my very own digital product – a Gratitude Habit Tracker.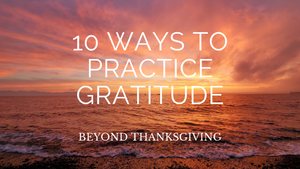 It's wonderful when we come together with our loved ones and share our gratitude one day of the year. Thanksgiving is a great reminder of the importance of gratitude in our lives. What if we could find simple ways to continue to practice gratitude long after the turkey leftovers are gone, and our guests have returned home?
Here are some of my favorite ways to practice gratitude beyond Thanksgiving. Start with the ONE that resonates with you the most.
After you've made it a new habit, you can layer on other ideas and make practicing gratitude a way of life.